ASFPM Foundation
Welcomes New Donor Coordinator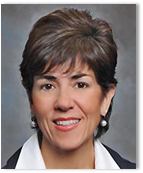 The ASFPM Foundation welcomes Mary Lehman as its new Donor Coordinator, effective on July 1, 2023. Mary is replacing George Riedel, who retired the end of June.
Mary is currently a Maryland State Delegate with more than 30 years of experience in communications, writing, editing, and public policy. As an elected official, Mary fully understands the importance of fundraising and serving her constituents, which she will bring to her new role as ASFPM Foundation Donor Coordinator. Importantly, Mary has over 30 years of direct and indirect experience with the National Flood Insurance Program. Responsible floodplain and flood risk management is a passion of hers, and is evidenced in her body of work as a Maryland legislator, including the
Climate Ready Floodplain Act of 2023
.
In addition to her legislative experience, Mary has fundraised for multiple non-profit organizations, helping to achieve their organizational goals and objectives. She welcomes your ideas for how we can expand our fundraising initiatives so that the Foundation can continue its important work in the floodplain and flood risk management arena. You can contact Mary at
mary@asfpmfoundation.org
or at (240)-691-7470.
The Association of State Floodplain Managers Foundation is dedicated to reducing the risk and impacts of floods on people and communities.


MISSION STATEMENT
ASFPM Foundation serves as the catalyst for the Association of State Floodplain Managers, Inc., its chapters and members to advance projects, education and policy initiatives that promote reduced flood risk and resilient communities.


ASFPM FOUNDATION ACTIVITIES AND EVENTS
The ASFPM Foundation proudly supports the education of current and future flood risk management professionals.
Current college scholarship opportunities
include the ASFPM Foundation Future Leaders Scholarship and the annual ASFPM Student Paper Competition. Activities, events and scholarships are made possible due to the support of ASFPM Foundation donors.
SUPPORT THE FOUNDATION
HELP US
to continue to enhance the practice and science of floodplain management, to make this world a safer place for present and future generations. To ensure the continuation of forums, floodplain management research and scholarships, your donation is needed! Help support the goals of the ASFPM Foundation by
donating
today.
Please send pledges and donations to:
Association of State Floodplain Managers Foundation
8301 Excelsior Drive
Madison, WI 53717