Gilbert F. White National Flood Policy Forum (2013)
Human Adjustments in Coasts - Adaptive Management of Changing Hazards, Risks, and Ecosystems
HOLISTIC COASTS: A Summary Report based on the 4th Assembly of the Gilbert F. White National Flood Policy Forum
Holistic Coasts is a bold vision - an integrated management approach and philosophy that breaks stove pipes, promotes individual and collective accountability and responsibility, and balances human use, environment and economy into a resilient system. Readers of this report will not find all answers regarding how to achieve holistic approaches, but will see a starting point for a vision and partnership that, if undertaken successfully, will help secure a sustainable future for our nation.

Holistic Coasts: Adaptive Management of Changing Hazards, Risks and Ecosystems
Forum 2013 Sponsors
AECOM
Black & Veatch SPC
CDM Smith
Dewberry
ESP Associates
H2O Partners
Michael Baker Jr., Inc.
Stantec
URS Corporation
The 4th assembly of the ASFPM Foundation Gilbert F. White National Flood Policy Forum at George Mason University's Arlington VA Campus Feb. 19-20, 2013. This forum addressed "Human Adjustments in Coasts - Adaptive Management in Response to Changing Hazards, Risks and Ecosystems." 100 invited experts spend a day and a half developing recommendations on approaches the nation can use to adjust human occupancies and management of the coasts. These suggestions should prove instructive to decision makers at all levels of government as we prepare the nation for increased coastal population, diminishing resources and increased storms and risk. A background paper about the forum topic is below, along with the program agenda.

2013 Forum Topic Background

2013 Forum Program Agenda
Many forum participants prepared a short paper on some aspect of the topic in order to help shape the discussions. This compendium of papers is available here:

2013 Forum Participant Papers

Participants List
A new addition to the program this year was a Flood Policy Roundtable on day two, where the findings and recommendations were announced and Council on Environmental Quality Chair Nancy Sutley spoke. This session was more public and open to additional professionals as well as media representatives. Although the forum focus on coastal issues was identified long before the latest Hurricane Sandy disaster, we recognized that the storm and its aftermath would be topics of significant discussion at the forum.
4th Gilbert F. White Flood Policy Forum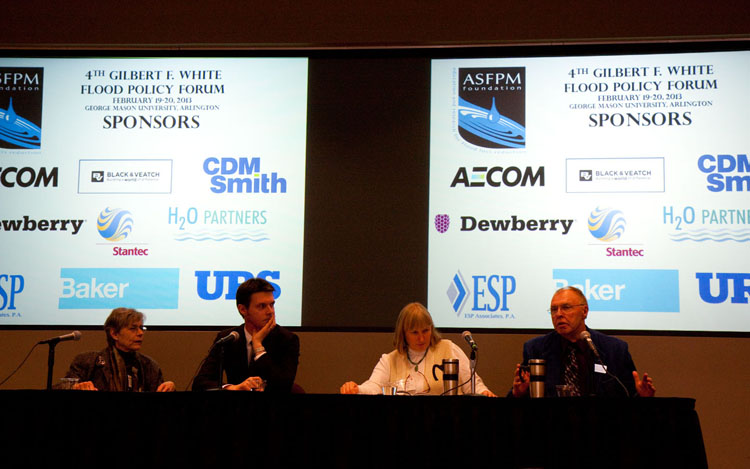 Presenters at the 4th Flood Policy Forum held Feb. 19-20, 2013 in Washington D.C. (pictured L to R):
Margaret Davidson, Acting Director, Office of Ocean & Coastal Resource Mgt., NOAA
Nick Hardiman, Coastal Policy Advisor, Environment Agency, United Kingdom
Denise Reed, Chief Scientist, Water Institute of the Gulf
Larry Larson, Director Emeritus and Senior Policy Advisor, ASFPM
Assembly Presentations
Larry Larson, ASFPM


Principles for Managing Coastal Risk and Resources
Denise Reed, Water Institute of the Gulf


Coasts as Natural Systems
Nick Hardiman, Environment Agency, UK


Getting England to Adapt at the Coast
Margaret Davidson, Office of Ocean & Coastal Resource Mgt., NOAA


Coastal Vulnerability
Capstone Agenda


Capstone Agenda
Chad Berginnis, Executive Director, ASFPM


Coastal Flood Policy Roundtable Introduction
Acknowledgements
Planning & Logistics

Speakers & Roundtables

Facilitators & Note Takers

George Riedel
Sam Medlock
Diane Brown
Larry Larson
Matt Miller
Todd Davison
Maria Honeycutt
John Hoffman
David Conrad
Gerry Galloway
Dale Lehman
Merrie Inderfurth
Grant Smith
Dan Zell
Firas Mikarem
Doug Plasencia

Dale Lehman
Nick Hardiman
Denise Reed
Larry Larson
Margaret Davidson
Nancy Sutley
John Miller
Roy Wright
Sam Medlock
Maria Honeycutt
Chad Berginnis
Doug Plasencia

Jeff Sparrow
Terri Turner
Shana Udvardy
Brad Anderson
Dave Fowler
Matt Koch
Chad Berginnis
Kevin Coulton
Firas Mikarem
Gerry Galloway
David Conrad
Doug Plasencia
Thanks to the Forum Sponsors!