ASFPM Foundation Signs Historic MOU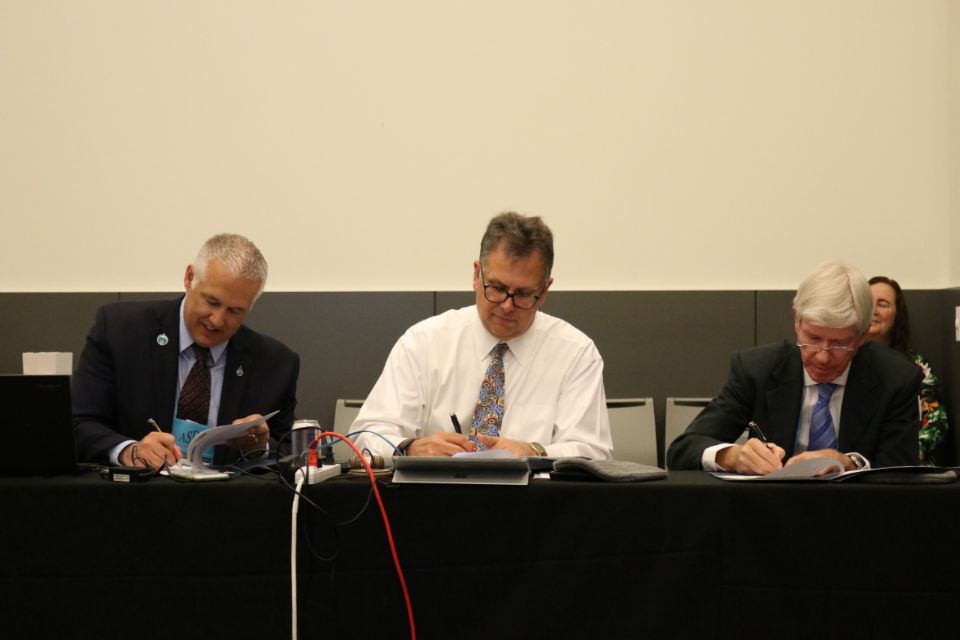 Floodplain Management Australia, ASFPM, and ASFPM Foundation have had a long-standing partnership for a number of years, which has included mutual attendance of each other's annual conferences. At Wednesday's foundation board meeting in Cleveland, this relationship was formalized by the signing of a Memorandum of Understanding between all three organizations. Chad Berginnis, executive director of ASFPM, Doug Plasencia, president of ASFPM Foundation, and Ian Dunham, president of FMA, were all present for the signing. Allan Gear will serve as FMA's non-voting member of the ASFPM Foundation Board and foundation treasurer Mark Forest will serve in the same capacity on FMA's board. We look forward to many years of continued collaboration and sharing.
VISION STATEMENT
The Association of State Floodplain Managers Foundation is dedicated to reducing the risk and impacts of floods on people and communities.
MISSION STATEMENT
ASFPM Foundation serves as the catalyst for the Association of State Floodplain Managers, Inc., its chapters and members to advance projects, education and policy initiatives that promote reduced flood risk and resilient communities.
ASFPM FOUNDATION ACTIVITIES AND EVENTS
The ASFPM Foundation proudly supports the education of current and future flood risk management professionals.
Current college scholarship opportunities
include the ASFPM Foundation Future Leaders Scholarship and the annual ASFPM Student Paper Competition. Activities, events and scholarships are made possible due to the support of ASFPM Foundation donors.
SUPPORT THE FOUNDATION
HELP US
to continue to enhance the practice and science of floodplain management, to make this world a safer place for present and future generations. To ensure the continuation of forums, floodplain management research and scholarships, your donation is needed! Help support the goals of the ASFPM Foundation by
donating
today.
GIVING
When you give to the ASFPM Foundation you support a variety of initiatives that reduce suffering and losses as a result of flooding, and promotes sustainable management of the nation's floodplains and watersheds. By donating, you set an example for fellow floodplain managers and do much to ensure our profession's continued national influence. Choose to make a one-time gift, or enroll in our recurring giving program to support our efforts year round. GIVE NOW.
Please send pledges and donations to:
Association of State Floodplain Managers Foundation
8301 Excelsior Drive
Madison, WI 53717